A Word from our Executive Director
Dear Friends and Colleagues, 

 

The global events of the past weeks remind us that as the Nazi effort to exterminate Europe's Jews became apparent in the 1930s, Jews sought in vain for refuge but almost no country would take them in. We cannot help but see the parallels today when millions of refugees face the same division: places where they cannot live-and places where they cannot enter. There are more refugees and displaced persons in the world today than at any time since World War II. Conflict and persecution is driving millions from their homes, leaving them stateless and vulnerable. Holocaust Survivors see a direct line between what the Nazis did over 70 years ago and what is happening today.  Tennessee Holocaust survivors and liberators share their stories in the hope that their testimony will serve as a warning to future generations so that they are not condemned to repeat the experiences yet still so vivid in their memories. Their accounts help us recognize the relevance of the Holocaust to our lives today and learn about where unchecked hatred can lead. The Tennessee Holocaust Commission is committed to preserving survivors' memories, but we can't do it without you. Our Tennessee Survivors and Liberators teach us important truths: that the Holocaust happened in a world not unlike our own, and we are all responsible for ensuring it doesn't happen again. 

 

In the words of Elie Wiesel:

 

"I swore never to be silent whenever and wherever human beings endure suffering and humiliation. We must take sides. Neutrality helps the oppressor, never the victim. Silence encourages the tormentor, never the tormented."-Elie Wiesel

 

Together, we teach about the past in hopes that those who will come after us will not allow history to repeat itself.

 

With appreciation for your support,
Danielle Kahane-Kaminsky
Executive Director

December 4, 2015
-Danielle Kaminsky at Tennessee Reading Association Conference- Murfreesboro, TN
December 11, 2015
-Frances Cutler-Hahn at 
Croft Middle School -Nashville, TN
January 5, 2016
-Frances Cutler-Hahn and Emily May at Nashville Ballet

January 20, 2016
-Bernie Landau and Danielle Kaminsky at Cane Ridge High School-Nashville, TN
January 25, 2016
-Frances Cutler-Hahn at 
William James Middle School in Dickson, TN
January 28, 2016
-Nashville Ballet Performs Anne Frank Ballet at H.G. Hill School in Nashville, TN
- International Holocaust Remembrance Day
January 29, 2016
-Frances Cutler-Hahn at Stewart's Creek High School in Smyrna, TN

Students line up to ask questions of panelists at the Limor Educational Conference at Vanderbilt University in Nashville, TN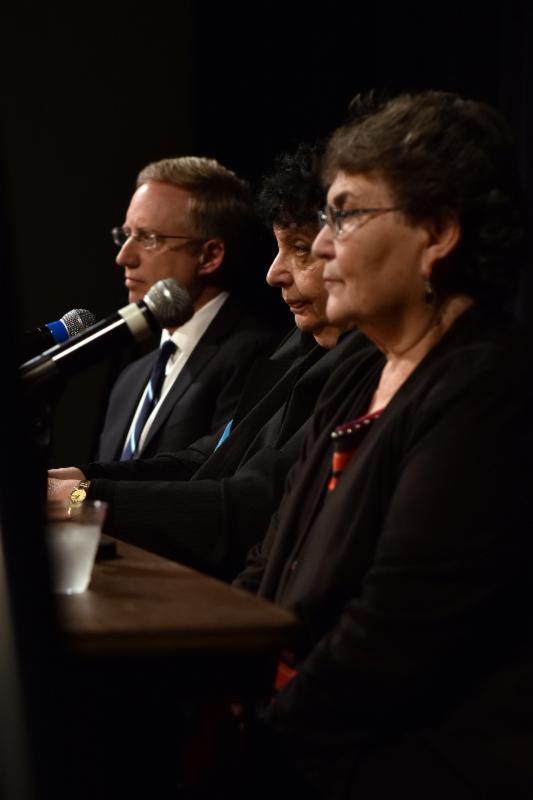 Assistant Commissioner of Education, Paul Fleming, Terzin Survivor, Inge Auerbacher, and Hidden Child, Frances Cuter-Hahn answer questions from students at the Limor Educational Conference at Vanderbilt University in Nashville, TN

USHMM Historian Works With Second Generation Group 
United States Holocaust Memorial Museum (USHMM) Historian, Dr. Joseph White provided guidance to our 2nd Generation Group on researching and locating family archives and artifacts from the Holocaust. He began by explaining that The International Tracing Service Archive (ITS) was established by the Allied powers after World War II to help reunite families separated during the war and to trace the missing.
The Allies collected millions of pages of documentation captured during the war. Today, an 11-nation International Commission oversees the archive. The United States Holocaust Memorial Museum (USHMM)
 is the United States' repository for the ITS collection. The Holocaust Survivors and Victims Resource Center at the USHMM will search for documents in the records of the ITS, as well as other collections of the museum. Dr. White provided background on what can be found using the International Tracing Service (ITS) archive.  Using inf
ormation about Tennessee surv
ivors, Dr. White provided an insight into this amazing resource on the history of the Holocaust and what can be located and how it can be used for research.

From Left to Right: 
Emily May daughter of TN Survivor Rosemary May, Danielle Kahane-Kaminsky-Executive Director, Dr. Joseph White, and Dina Romeo daughter of TN Survivor Gertrude Schlanger; 
Dr. White answers questions from the group;
Dr. White sharing Tennessee Survivor, Jacob Seidner's, Central Name Index  (CNI) card
State Ceremony to Honor Righteous Tennessean-Tuesday, March 8
Please make plans to join us for the annual Tennessee Holocaust Day of  Remembrance, Tuesday, March 8, 2016 at the Capitol in the House Chamber at 11am, hosted by the Tennessee Holocaust Commission. This year's theme, Choosing to Act: The Story of a Righteous American Soldier, will examine the story of a World War II veteran, Master Sergeant Roddie Edmonds, from Knoxville as told by his son Chris Edmonds. The ceremony will 
Master Sergeant Roddie Edmonds
also include the recitation of the traditional Jewish prayer of remembrance for those who died, and the recognition of the 2016 Belz-Lipma
n Holocaust Educator of the Year Awards. To learn more about Master Sargent Roddie Edmonds click here.   Click Here t
o view Official 
Press Release.
Upper East Tennessee Holocaust Program
"Childhood Stories of Survival" 
The Upper East Tennessee  program will take 
To learn more about Sonja DuBois
place on 
Wednesday, March 16, 2016 
from 9:00 a.m. -11:00 a.m. (EST) at the Niswonge
r Performing Arts Center located at 212 Tusculum Blvd. in 
Greeneville, TN 37745.
This year's program will feature Hidden Child, Sonja DuBois. If you or your students are interested in attending this program please contact Danielle Kahane-Kaminsky at danielle.kahane-kaminsky@vanderbilt.edu OR Noelle Smith at smithn@gcschools.net. 
Kaminsky to Attend Levine Institute 
This Institute is designed to establish a stronger bond between the Museum and Holocaust Organizations around the country. Each participating organization is asked to plan and implement a professional development event for secondary teachers in cooperation with the Museum as part of the participation agreement. By leveraging its resources and experience, training the trainers, and offering sustainable support for follow-up programming, the Museum and its' cooperating partners stand to improve professional development in Holocaust education for the long term. The Tennessee Holocaust Commission is very excited to be participating in this Institute.
CBS Story About Restored Holocaust Instruments
"Violins of Hope"
DECEMBER 6, 2015, 9:24 AM-  
Amnon Weinstein's father had escaped Europe before World War II; his family was not as lucky. Weinstein has honored the memories of those who perished in the Holocaust by restoring dozens of string instruments that were played by Jewish prisoners in Nazi concentration camps. The instruments were recently played in a special concert by the Cleveland Orchestra. Serena Altschul tells the remarkable story of the
 "Violins of Hope."
Educational Opportunities 
Apply for Museum Teacher Fellowship Program
The United States Holocaust Memorial Museum's Teacher Fellowship Program
is designed to immerse participants in advanced historical and pedagogical issues relating to the Holocaust.  Join the program's exclusive national corps of skilled teachers who serve as leaders in Holocaust education in their schools, communities, and professional organizations.  If you are a secondary school educator or community college professor who has been teaching about the Holocaust for at least five years, please consider applying.  For more information about the program, or to access to the online application, please visit this link:
Hidden Child, Frances Cutler-Hahn and Executive Director, Danielle Kahane-Kaminsky pictured with the cast of the Diary of Anne Frank at Davidson Academy